Umm Al Quwain Aeroclub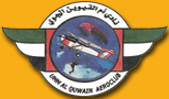 Umm Al Quwain Aeroclub is the newest addition to the Aviation Fields in the United Arab Emirates. The Aeroclub is the brainchild of HH Brigadier Sheikh Mohammed Bin Rashid Al Mualla, and was commissioned only two years ago.
The Aeroclub includes a runway with length of 1800 meters and 30 meters wide, taxiway, marking and lighting which have been completed under the supervision of General Civil Aviation Authority of the United Arab Emirates. The surface of the runway has a Load Classification Number that accepts a medium sized passenger jetliner, a moderate weight capacity.
A "CTAF," Common Traffic Advisory Frequency is operative at Umm Al Quwain Aeroclub and is listed in the relevant international documents used by aviators.
The Runway and Taxiway are equipped with lights and therefore available for night time operations as too.
"SKY DIVING" is its primary Activity and there is a team of dedicated Instructors who are available to handle any prospective student. The training courses are completed nearly always on time, this is mainly because of the excellent weather conditions that prevail throughout the year and because of the availability of a "SPECIAL MODIFIED" aircraft for this purpose, this facility is also open to members as well.
Sky Divers from the GCC and European Countries make the bulk of the overseas skydivers beside the large number if the UAE Nationals and Licensee's.
Umm AL Quwain Aeroclub also has a club house, with comfortable lounges and catering facilities and the staff are highly motivated to look after the visitors.
In the Skydiving, the Diver cannot ask for anything more than jumping from an altitude of 12,000 feet over Umm Al Quwain Aeroclub. Medical & First Aid personal are always at hand.
The other attraction of the Aeroclub is PILOT TRAINING, the Flying Training School of the Aeroclub is an approved facility and is functional to handle anyone who aspires to get his "PRIVATE PILOT LICENSE" (PPL). The course is conducted by the Chief Flying Instructor on behalf of the Management and final tests are conducted by the Inspectorate of the General Civil Aviation Authority ( GCAA) of the UAE.
The UAE PPL is an internationally accepted pilot license.
Pilot License Renewal and Pilot Proficiency Check flights are undertaken.
HELICOPTER FLYING. The Aeroclub owns a Robinson 44 helicopters and is the latest acquisition of HH Sheikh Mohammed Bin Rashid AL Mualla. Pilot plus three passengers are permitted to ride the helicopter.
RENTAL is available now at Umm Al Quwain Aeroclub. The hangars at Umm AL Quwain are within secured perimeter fences could take more than a few fixed wing aircraft and since any Aircraft owner will always expect aircraft to be hangared at all times, a prospect will not have to go so far to find the space! Aircrafts can be rented out for a day, a week a month or any length of time for a very nominal charge.
We accept Guest Posts

Your Comments
I am highy interested in taking up the sky diving with the Aero Club. Kindly provide me the contact details to approach them regarding the schedule and charges..
Dipti Shah, United Arab Emirates